Key weekend ahead in British F3 title race 
Lundqvist keen to build on Spa double win
With three rounds to go of the 2018 BRDC British Formula 3 Championship, Linus Lundqvist has opened up a gap at the top of the standings. Powering his way to an emphatic double win at Belgium's Spa-Francorchamps two weeks ago, the Double R Racing Swede significantly stretched his advantage over nearest rival Nicolai Kjaergaard – but Lundqvist is determined not to let any thoughts on the title distract from the task at hand as the series returns to Britain this weekend.
"Things are going really well at the moment, we won twice last time out at Spa, and I see absolutely no reason at all to change anything in my approach," says Linus Lundqvist. "The title is the main goal, and always has been, but I think the best way to get out of shape is by starting to overthink things and do them differently. I'm comfortable with my situation, the pressure is on the others, and I will continue to go flat out to try and win more races."
Lundqvist, who has won at every track visited this year, currently holds a 120-point lead over Kjaergaard in the standings. While that might sound substantial, equivalent as it is to more than the maximum score available at an entire race weekend, Lundqvist is not one to rest on his laurels.
"We absolutely can't take anything for granted, and I view this as a key weekend," Lundqvist reassures. "There are nine races to go this season, and if we could extend the lead a little bit more here, that would be crucial. I think overtaking will be difficult this weekend, so the first target will be to put the car near pole in qualifying and we'll just take it from there."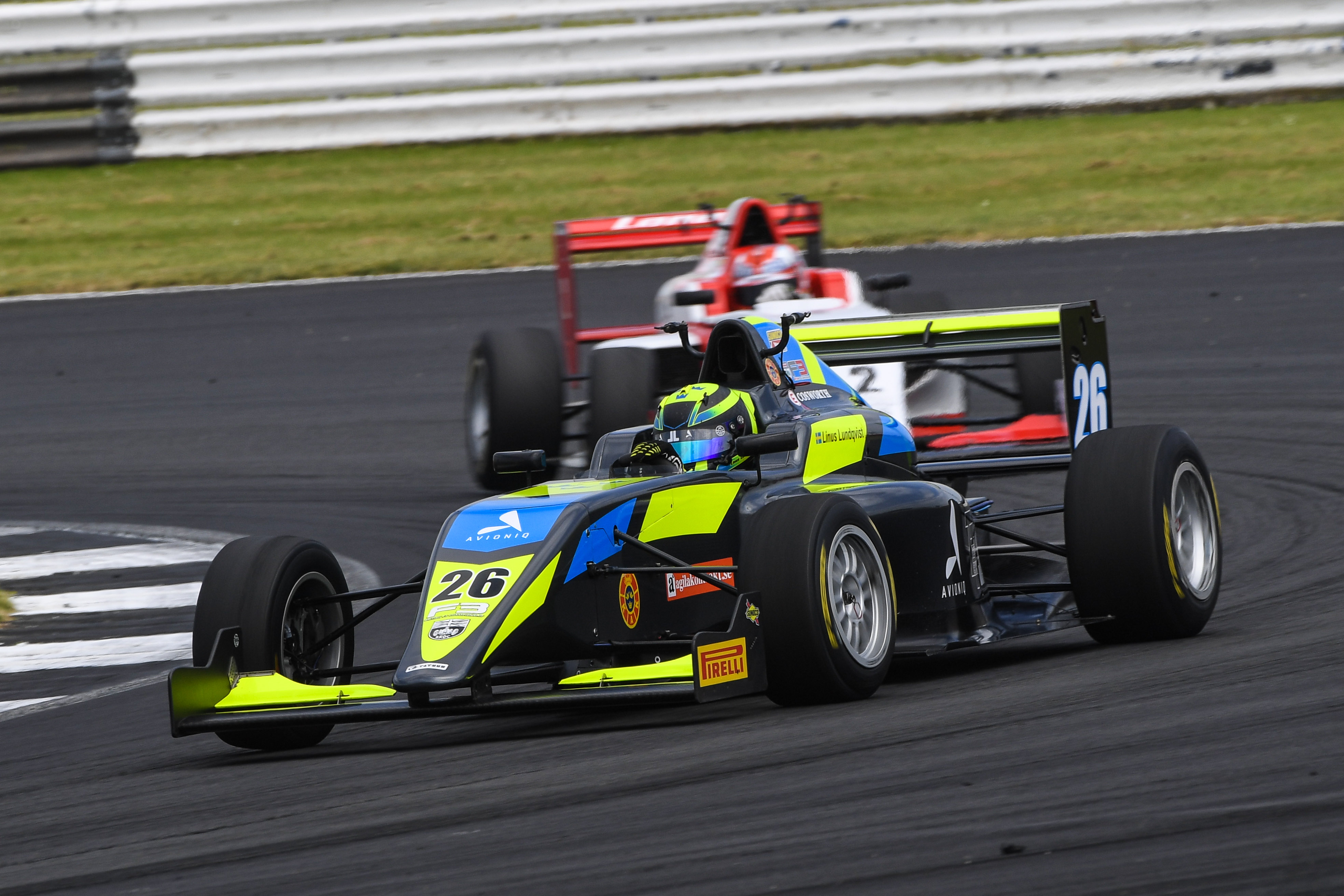 Racing this weekend takes place at Brands Hatch, more specifically on the fast and challenging Grand Prix layout of the famous track south of London. There will also be two days of pre-event testing for the F3 field on Thursday and Friday, although those sessions will be staged on the considerably shorter "Indy" version of the venue.
"It will be a bit unusual to test on the Indy circuit for two days and then forget all about that and tackle the Grand Prix layout from Saturday on, but I think it could play to our strengths," Lundqvist concludes. "We have a good baseline set-up and I'm normally able to adapt relatively quickly to new conditions. The really difficult and most fun bit of Brands Hatch is the GP track with its fast and blind corners, so I'm really looking forward to racing there this weekend."
Qualifying and the first race of the weekend takes place on Saturday. The final two heats are pencilled in for Sunday.   
TIME TABLE
BRDC British F3 Championship
Round 6 | Brands Hatch GP
All times local (GMT+01:00)
Thursday 2 August
Test 1: 09.00-10.00
Test 2: 11.10-12.10
Test 3: 14.15-15.15
Test 4: 16.25-17.25
Friday 3 August
Test 5: 09.00-09.30
Test 6: 10.45-11.15
Test 7: 13.25-13.55
Test 8: 15.10-15.40
Saturday 4 August
Free Practice: 10.40-11.00
Qualifying: 13.20-13.40
Race 1: 17.35-17.55
Sunday 5 August
Race 2: 11.35-11.55
Race 3: 15.55-16.15
CHAMPIONSHIP STANDINGS (top five)
BRDC British F3 Championship
After 15/24 races
1: Linus Lundqvist, 412 p.
2: Nicolai Kjaergaard, 292 p.
3: Kush Maini, 265 p.
4: Tom Gamble, 261 p.
5: Krish Mahadik, 209 p.
Click here to view full standings.
HOW TO FOLLOW LINUS
Website: www.linuslundqvistracing.se
Facebook: LinusLundqvistRacing
Live timing: http://www.britishf3.com/live-timing/