2018
Champion - BRDC British F3 Championship
2018 will prove to be Linus' best season to date, as he powers to the BRDC British Formula 3 Championship title in his first year of F3 competition. The collaboration with Double R Racing continues for a second year, now in the leading single-seater series on the British islands, and the formidable constellation proves a dominant force throughout the campaign.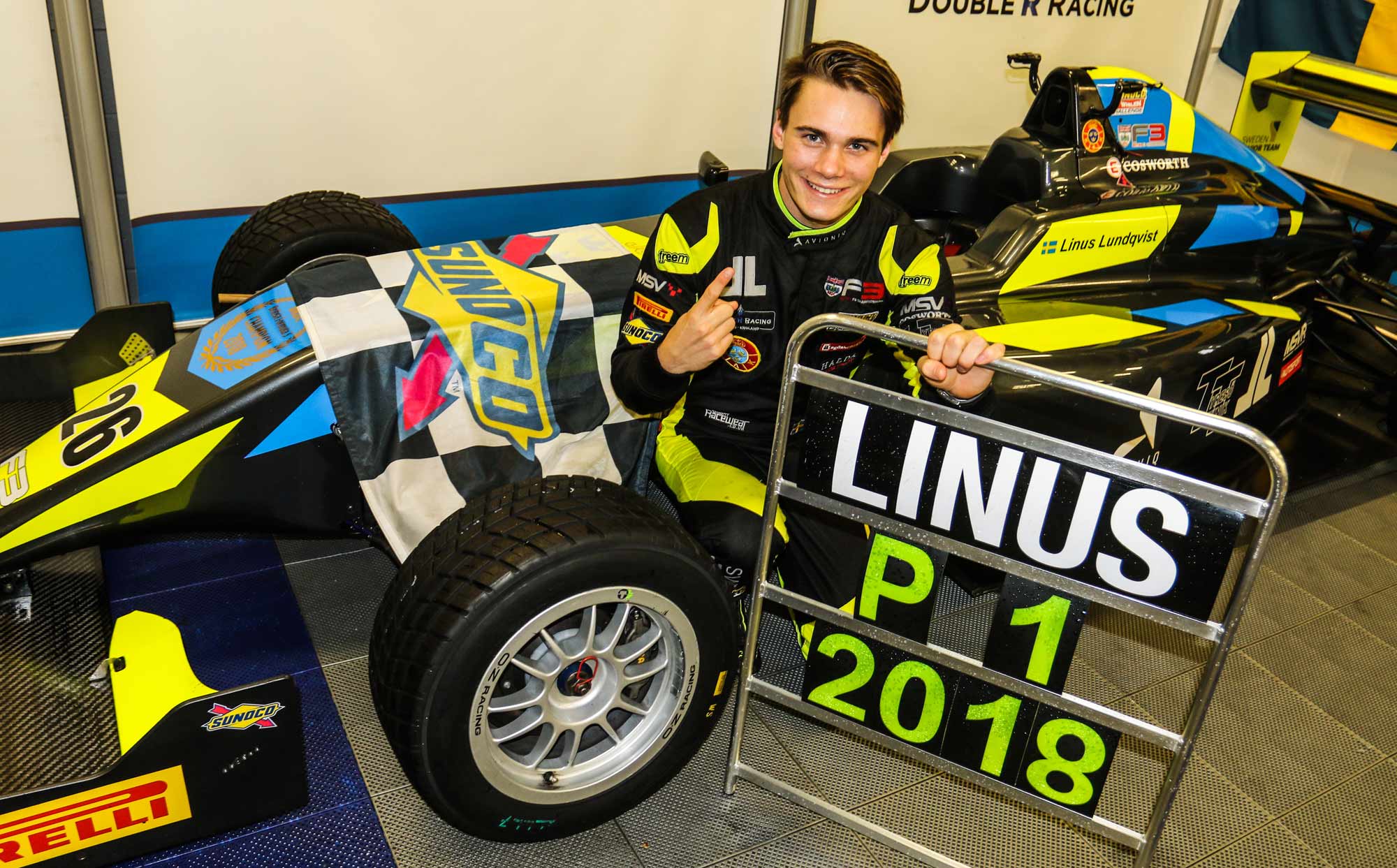 Linus gets the year off to a flying start by winning the very first race at Oulton Park, fending off established F3 sophomore Nicolai Kjaergaard – who will go on to become Linus' main threat for the title.
The Oulton Park victory is particularly emotional for Double R Racing, coming off the back of a disheartening pre-season period for the team after losing popular mechanic JJ in a testing accident. With tears running down their cheeks, the Woking-based squad celebrate and mourn at the same time on a surreal Easter weekend.
From there on, it's a highway of success for Linus and the team. A triple podium in round two at Rockingham follows suit, including a victory in the final race of the weekend, and further wins are later collected at Snetterton, Silverstone and Spa-Francorchamps. At the latter event in Belgium, Linus even wins twice.
A torrid weekend at Donington Park reduces the championship lead heading into the finale at Silverstone in mid-October. In a straight shootout with fellow Scandinavian Kjaergaard, however, Linus seals the deal in the opening heat of the triple-header, dominating the race from pole position.
With the title now in hand, Linus joins a group of fellow British F3 champions that features the likes of Ayrton Senna and Mika Häkkinen.
Adding further glory to a momentous season, Linus also clinches the Sunoco Whelen Challenge, out-performing 67 other drivers from across the European motorsport scene to win a coveted prize drive in the 2019 Rolex 24 at Daytona sportscar race.