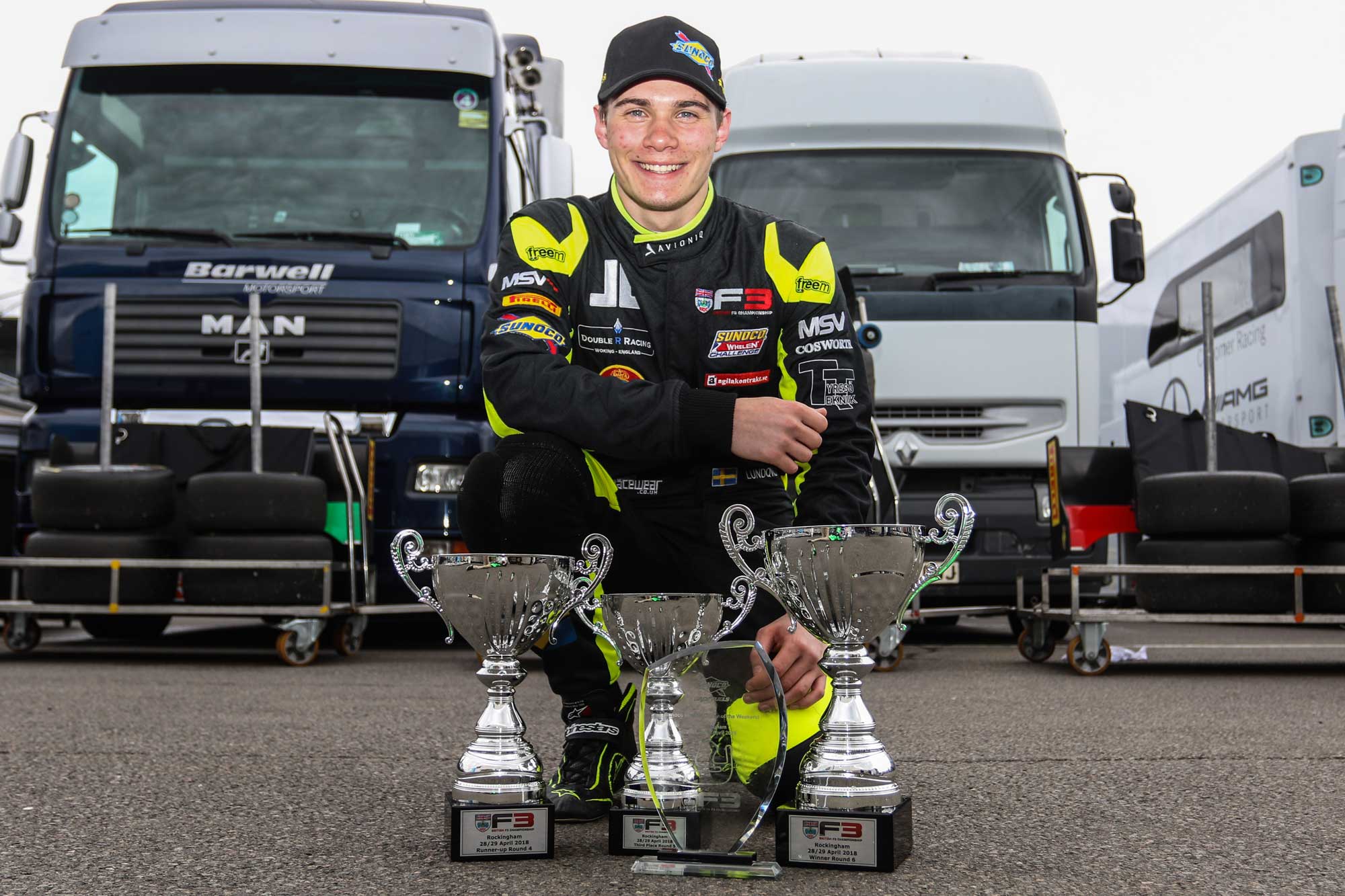 The journey has just begun
As the reigning BRDC British Formula 3 Champion, Linus Lundqvist has his eyes firmly set on carving out a professional career in international motorsport. He competes in the Euroformula Open championship for Double R Racing in 2019, stepping onto the highly explosive arena of pan-European single-seater racing.
From Stockholm, Sweden, Linus won the Formula STCC Nordic single-seater title in 2016, before descending on the UK in 2017 for an attack on the Formula 4 British Championship. Despite suffering a sequence of frustrating technical setbacks, he finished fifth overall in his rookie year, claiming five race wins and 11 podiums. His pace was further underpinned by five pole positions and nine fastest race laps – the most out of all drivers in the series.
2018 saw the success story reverberate in resounding style. The step up to British Formula 3, one of the world's most esteemed junior single-seater series, emphatically confirmed the potential that makes Linus an ever-hotter property within the motorsport landscape. Winning the very first race of his rookie F3 season, victories kept coming aplenty throughout the campaign, culminating in the ultimate reward: the championship title.
Becoming the first Swede since Stefan Johansson in 1980 to win the coveted championship, Linus follows in the wheel tracks of motoring greats such as Jackie Stewart, Ayrton Senna and Mika Häkkinen as champions of British Formula 3.
Adding to his 2018 success, Linus also won the Sunoco Whelen Challenge; one of motorsport's most valuable prizes worth more than $250 000 in the form of a Rolex 24 At Daytona drive. He duly took up his prize to complete his maiden endurance race during the American 24-hour classic in January 2019, driving a Lamborghini Huracán GT3.
Linus' main 2019 programme revolves around the increasingly popular Euroformula Open single-seater series, featuring an attractive calendar that takes in some of Europe's top racing venues. Alongside eight current Formula 1 tracks, the championship also visits the famous Grand Prix de Pau street event in France, providing a diverse season-long challenge that combines with stiff international competition to mark an ideal educational platform.  
Drives 2019
Euroformula Open