British F3 leader takes up invitation to race at home in Porsche Carrera Cup Scandinavia
Through-the-pack slicing provides well-needed highlight amid tragic weekend for Swedish motorsport
British Formula 3 championship leader Linus Lundqvist attracted attention for all the right reasons in a one-off Porsche Carrera Cup Scandinavia appearance in Karlskoga, Sweden, this past weekend, carving his way spectacularly through the field after being forced to start from last in the aftermath of a tragic support series accident.
Lundqvist, who heads the BRDC British F3 standings comfortably with just two rounds to go, took up an invitation from Porsche Sweden to race aboard the official Porsche Guest Car, set aside specifically for internationally-acclaimed Swedish star drivers and young, up-and-coming hopefuls.
The Guest Car, a Porsche 911 GT3 Cup equal to the other machines in use in the one-make series, has previously been occupied by the likes of Formula E frontrunner Felix Rosenqvist and ex-F3000 champion Björn Wirdheim.
Straight on the pace
In Lundqvist's case, the opportunity to race in Porsche Carrera Cup Scandinavia coincided with his first-ever taste of sportscar activity – but racing with a roof over his head for the very first time did not stop him from making an immediate impression.
Shocking the established order, Lundqvist went a close second fastest in opening practice, lapping just 0.07s adrift of first place and instantly beating the likes of 2014 champion Oscar Palm and current 2018 points' leader Lukas Sundahl.
With his practice pace to lean on, Lundqvist – the youngest-ever Porsche Guest driver at 19 – was eager to put on what looked like a very realistic fight for pole in Saturday qualifying. A few hours before the session was scheduled to start, however, a disaster sent shockwaves through the Swedish motorsport community: a marshal was tragically killed while supervising a Swedish GT session, leaving Porsche Carrera Cup Scandinavia officials to call off qualifying as a mark of respect.
Instead of shaping the grids for Sunday's two races by qualifying lap times, the decision was made to form the starting order based on championship standings – leaving Lundqvist at the back of the pack by virtue of his one-off guest status.
26 places gained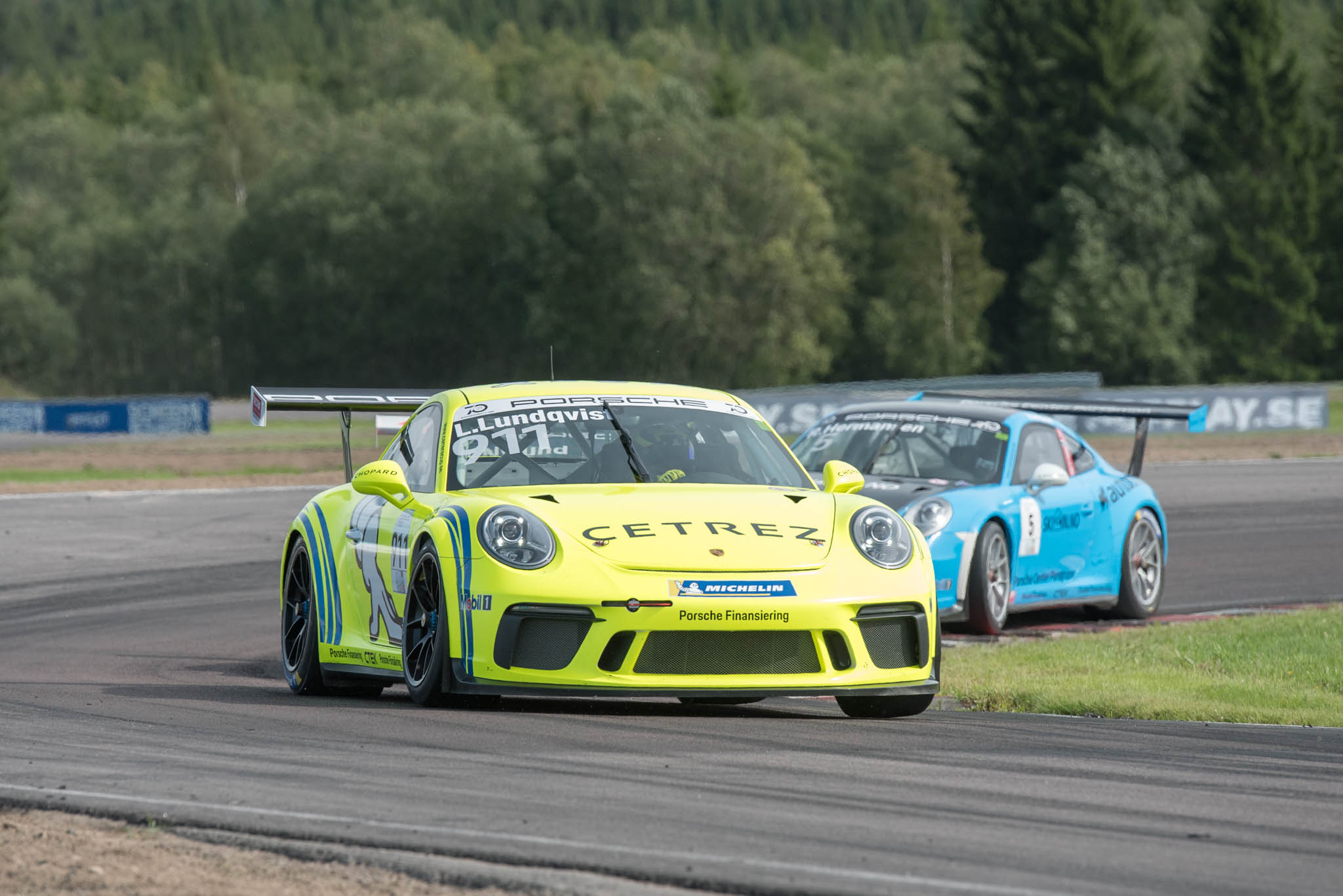 Inspired by the challenge of trying to make up ground around the short and twisty Gelleråsen track, Lundqvist performed above expectations, twice carving his way from 20th on the grid to finish seventh in both races. It marked the most powerful recovery of the season in Porsche Carrera Cup Scandinavia, with Lundqvist making up an aggregate 26 places across the two encounters.
Underlining his pace, Lundqvist also managed to set the second-fastest lap in Race 2 despite slicing his way through the traffic, stopping the clock just 0.009s slower than race winner (and seasoned Carrera Cup runner) Sundahl.
"I'm thrilled to have been given this great opportunity by Porsche Sweden, and I really enjoyed racing in front of the Swedish crowd again,"says Linus Lundqvist. "It's been a weekend of much emotion and my thoughts, of course, are with the marshal we so tragically lost and with his family. I can only hope that I contributed in the smallest of ways to some smiles on the grandstands with a bit of exciting racing. The Porsche is very different to any single-seater car I've ever driven, so I've learned a lot this weekend and I'm grateful to have had this experience. Thanks as well to Mtech Competition for preparing the car for me." 
One of those going up against Lundqvist in Porsche Carrera Cup Scandinavia this weekend was rallying legend Stig Blomqvist, who drove a specially-designed, Rothmans-liveried car as part of Porsche's 70th anniversary celebrations.  
"From Porsche Sweden, we are happy to have had Linus Lundqvist racing with us in Porsche Carrera Cup Scandinavia this weekend," says Porsche Sweden director Raine Wermelin. "As the British Formula 3 championship leader, he is certainly an exciting driver of the future, and we weren't surprised to see how efficiently he blended in with the team and how quickly he got up to speed. For someone racing the 911 GT3 Cup for the first time, he did an outstanding job, and his charge through the field was a highlight of the weekend. Hopefully his outing in Karlskoga can act to inspire other young drivers as we continue to see an increased interest in our championship."
Linus Lundqvist will be back on regular BRDC British F3 Championship duty on September 22-23 at Donington Park, where he could seal the title already at the penultimate round of the season. 
Linus Lundqvist and LL Motorsport AB wish to extend our deepest condolences to the friends and families affected by the tragic accident in Karlskoga last weekend.