British F3 champion swiftly on the pace in Abu Dhabi 
Two days of positive testing at Yas Marina Circuit 
British Formula 3 champion Linus Lundqvist worked his way through two days of promising GP3 Series testing in Abu Dhabi this week, ending his final day of running in third place on the timesheets and as the leading rookie.
Swede Lundqvist was in action at the spectacular Yas Marina Circuit on Thursday and Friday of this week's official GP3 post-season test, driving for Spanish outfit Campos Racing as he got his first taste of both car and track.
Going seventh quickest in the 20-strong field on the first day of running, lapping just a tenth off triple GP3 race winner David Beckmann, Lundqvist then upped his pace further still on Friday, ending up third in the concluding afternoon session and leading the way among the series first-timers.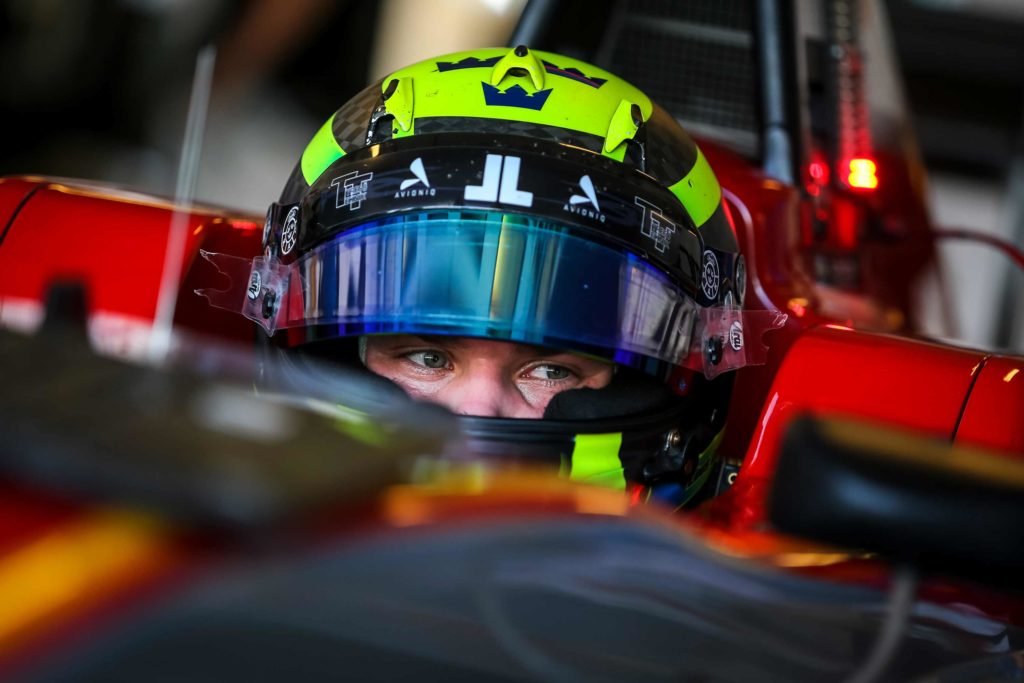 Lundqvist eventually wound up less than three tenths off the ultimate pace, set by 2018 GP3 and F3 racer Jehan Daruvala.
Recording a personal best lap of 1m55.041s, Lundqvist identically matched the time which left newly-crowned GP3 champion Anthonie Hubert third fastest in qualifying for the series' finale at Yas Marina last weekend.
"It's been a very good test," says Linus Lundqvist. "GP3 is quite different to what I'm used to from British F3, with all the extra engine power, the DRS, the tyres… It took a few laps to get into it, but at the end of the first day I already felt pretty comfortable. My lap this afternoon was not perfect, so still a few tenths in it, but overall I'm pleased – it's not been too bad for the first time!"
With GP3 morphing into the new FIA Formula 3 Championship in 2019, the Abu Dhabi test marked an important opportunity to get an early feel for the kind of car slated to be used in FIA F3 next year.
"There's nothing decided yet, but FIA F3 is certainly on our radar and whatever happens I think this test did me some favours this week," Lundqvist continues. "It was a great experience in terms of gaining some insight into this car and the general environment, so I'm pleased that it all went so well. I'm optimistic for the future and I definitely want more of this, that's for sure."
The Abu Dhabi GP3 test continues on Saturday, although without Lundqvist who has now completed his two scheduled days of running.
The BRDC British F3 champion now returns to Europe, where he will attend the British Racing Drivers' Club Annual Awards in London on Monday (December 3) as he is formally recognised for his 2018 title triumph.    
RESULTS
GP3 Series test | Yas Marina Circuit, Abu Dhabi