Euroformula Open campaign draws to a close at Italy's Temple of Speed
Double R Racing Swede in contention for rookie title
Also chases championship runner-up slot
The Euroformula Open season is drawing to a close this weekend, and Linus Lundqvist can look ahead to four packed days of action on classic racing soil. One of the world's fastest circuits, Italy's Autodromo Nazionale Monza plays host to the season finale; and Lundqvist is at the centre of two separate championship fights.
 
For a start, the 20-year-old Swede is involved in a close scrap over the rookie title, shadowing Red Bull-backed points leader Liam Lawson of New Zealand by just six points. Lawson and Lundqvist are the only two drivers still in the frame for rookie honours.
 
In the main overall championship, meanwhile, Lundqvist is locked in a multi-driver dispute over positions. While Japan's Marino Sato may have already sealed the overall drivers' title, a fierce battle is raging over the runner-up slot and succeeding places, with Lundqvist – currently sitting fourth – among those in with a shot.  
 
It might be a long one, with 44 points separating the Swede from second-placed Lukas Dunner (Austria) and 54 remaining up for grabs – but Lundqvist himself is taking a pragmatic approach into the weekend.
 
"It will be great coming to Monza," says Linus Lundqvist. "I've never driven there before, but it's one of the most classic circuits in motorsport and I've always wanted to try it out. Of course it's great to be battling over the rookie title and the overall positions, but honestly, it's not really something I think about. What I'd really like to do is win at least one race this season. I believe we have a chance to do so at Monza, especially coming off the back of our podium last time out in Barcelona. That is my main target this weekend and hopefully the rest will fall into place as a consequence."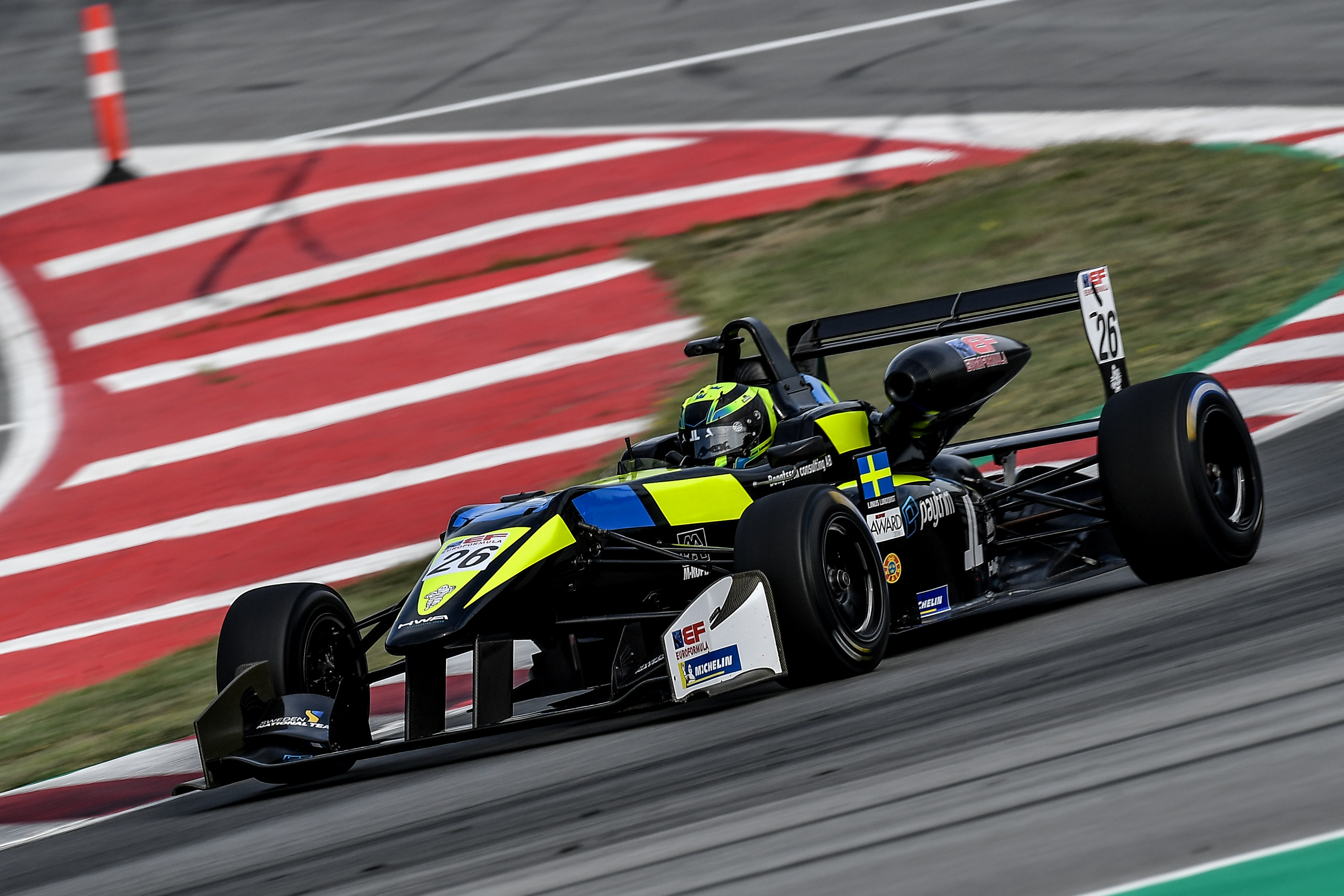 Located north of Milan, Autodromo Nazionale Monza boasts a near 100-year heritage, making it one of the oldest circuits in the world. It is the annual home of the Formula 1 Italian Grand Prix, featuring a unique layout that comprises extensive straights, tight chicanes and the famous, sweeping Parabolica that concludes the lap.
 
Dubbed the Temple of Speed, Monza is a suitable location for the season finale.
 
"I think the racing will be absolutely fantastic this weekend," Linus Lundqvist concludes. "The track is perfect for single-seater racing – any form of racing for that matter – and there are plenty of good overtaking opportunities. It's a high-speed track with a huge slipstreaming effect, so straightline speed is crucial, as is braking stability going into the chicanes."
 
The last round of the Euroformula Open campaign kicks off on Thursday with a day of collective testing. Friday features the regular two official free practice sessions, while Saturday and Sunday are devoted exclusively to qualifying and the two races. 
TIME TABLE
Euroformula Open
Round 9/9 | Monza (ITA) 
All times local (GMT+02:00)
Thursday 10 October
Test 1: 09.00-12.40
Test 2: 15.20-16.20
Friday 11 October
Free Practice 1: 09.00-09.40
Free Practice 2: 13.02-13.42
Saturday 12 October
Qualifying 1: 09.30-09.55
Race 1 (16 laps): 14.15
Sunday 13 October
Qualifying 2: 09.30-09.55
Race 2 (16 laps): 13.50
HOW TO FOLLOW THE ACTION
Website: www.linuslundqvistracing.se
Facebook: LinusLundqvistRacing
Timing: www.linuslundqvistracing.se/live/
Streaming: www.linuslundqvistracing.se/live/
CHAMPIONSHIP STANDINGS (top five)
Euroformula Open
After 16/18 races
1: Marino Sato (JPN), 274 p.
2: Lukas Dunner (AUT), 166 p.
3: Liam Lawson (NZL), 154 p.
4: Linus Lundqvist (SWE), 122 p.
5: Yuki Tsunoda (JPN), 117 p.