Flying Swede delivers 16 overtakes in one race
Battles back from lap one take-off
Linus Lundqvist produced the comeback drive of the weekend in round four of the Euroformula Open campaign at Spa-Francorchamps, literally bouncing back into contention following a lap one flight.
Lundqvist came home a discontented ninth in the first race of the double-header meeting, and was then forced to make do with a lowly 12th on the grid for the Sunday finale after running into traffic in qualifying. 
Once the lights went out in Race 2, however, Lundqvist's luck appeared to turn when he delivered a blistering first lap to haul himself all the way up to sixth as the field rushed towards the Bus Stop chicane to complete the opening tour of the Belgian GP track.
As Lundqvist turned into the first part of the right-left chicane, however, Mexico's Javier Gonzalez careered into the side of the Swede's Double R Racing machine, pitching it into the air.
The black and yellow car came down in a big bounce, with Lundqvist left facing the wrong way and dropping to the back of the pack. Incredibly, though, he was able to continue.
Gonzalez was handed a post-race penalty for his part in the accident.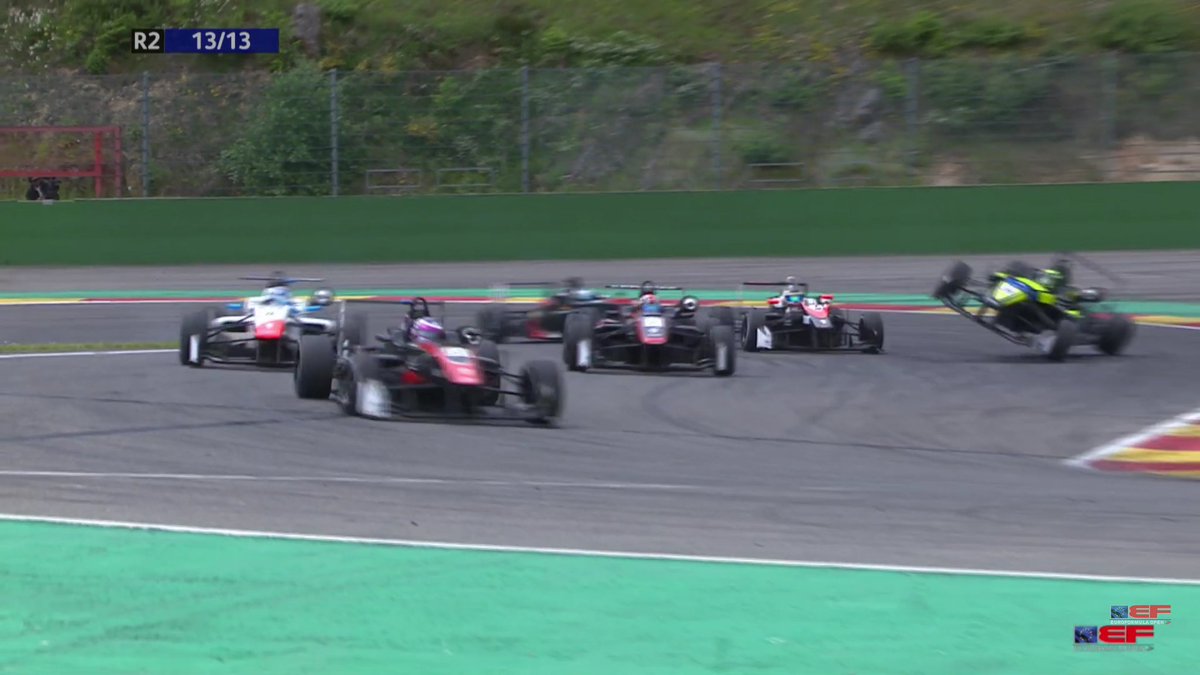 By now dead last, Lundqvist was invited back into the game when Motopark duo Liam Lawson and Yuki Tsunoda took each other out at Les Combes on lap three and triggered a safety car intervention.
That allowed Lundqvist to rejoin the tail end of the field and, once the race got back underway, made for an entertaining redemption.
From 17th and last, the reigning British F3 champion would pick his way efficiently past his rivals, making up positions one by one.
He eventually powered across the finish line in a strong seventh place, having gained ten positions in just ten laps for a total of 16 overtakes including those before the clash on lap one.
 
"I am rarely happy with seventh place, but today I actually am," says Linus Lundqvist. "That was an incredible race to drive – so much fun! It's just a real shame that we were robbed of the chance to battle up front, because I really think we could have had a podium. We had such great pace. The car was even damaged quite a bit after that hit; I'm shocked it stayed together. I don't know when I made this many overtakes in a race the last time. It's nice to end the weekend with a positive feeling and some strong race pace."
 
Linus Lundqvist currently holds seventh place in the Euroformula Open standings. The next round of the competitive single-seater series takes place at Hungary's Hungaroring on July 5-7.
RESULTS (top five)
Euroformula Open
Round 4/9 | Spa-Francorchamps (BEL) 
RACE 1
1: Marino Sato (JPN), Motopark, 13 laps
2: Yuki Tsunoda (JPN), Motopark, +2.974s
3: Liam Lawson (NZL), Motopark, +6.384s
4: Jack Doohan (AUS), Double R, +9.655s
5: Julian Hanses (GER), Motopark, +12.742s
—
9: Linus Lundqvist (SWE), Double R, +25.459s
RACE 2
1: Marino Sato (JPN), Motopark, 14 laps
2: Lukas Dunner (AUT), Teo Martin, +6.214s
3: Julian Hanses (GER), Motopark, +7.875s
4: Jack Doohan (AUS), Double R, +8.829s
5: Christian Hahn (BRA), Carlin, +14.489s 
—
7: Linus Lundqvist (SWE), Double R, +19.335s 
CHAMPIONSHIP STANDINGS (top five)
Euroformula Open
After 8/18 races
1: Marino Sato (JPN), 158 p.
2: Liam Lawson (NZL), 104 p.
3: Yuki Tsunoda (JPN), 98 p.
4: Lukas Dunner (AUT), 92 p.
5: Julian Hanses (GER), 74 p.
—
7: Linus Lundqvist (SWE), 51 p.