Lacklustre weekend sets up British F3 nail-biter
Array of setbacks slash championship lead
Spectacular first-lap slice nullified by red flag
Linus Lundqvist was forced to see his BRDC British F3 Championship lead being significantly slashed in the penultimate round of the season at Donington Park, as a series of setbacks wrecked the Swede's race-winning momentum to set up a dramatic title showdown at next month's finale.
 
A six-time winner during his rookie season of F3 racing in 2018, Lundqvist arrived at Donington Park holding a 111-point lead in the championship standings, potentially able to wrap up the title early with one round of racing still to go.
 
The Double R Racing youngster suffered a combination of technical issues and on-track incidents, however, that instead saw his advantage reduced to 50 points as title rival Nicolai Kjaergaard seized the opportunity to win twice. 
 
Lundqvist's weekend got off to a bad start early in Thursday testing as an oil leak necessitated an engine change, only for the new unit to be replaced itself after Lundqvist struggled to 14th in qualifying – easily his worst performance of the season.
 
The championship leader recovered to finish eighth in Race 1, salvaging a bunch of crucial points towards his title ambitions.
 
The misfortune would continue in Race 2, though, which perhaps best encapsulated Lundqvist's lacklustre destiny on this weekend.
From 11th on the fully-reversed grid, the Stockholm resident powered through into third on a sensational opening lap, slicing through the pack at the same track where ex-British F3 champion Ayrton Senna incidentally delivered one of the greatest first laps in Formula 1 history at the 1993 European Grand Prix.
 
It would all be undone by a red flag strike at the start of lap two, however, with the race being stopped following a crash involving Manuel Maldonado.
 
As per routine rules, the stoppage meant all cars had to re-group into their original grid slots for the restart, effectively squandering all of Lundqvist's hard work.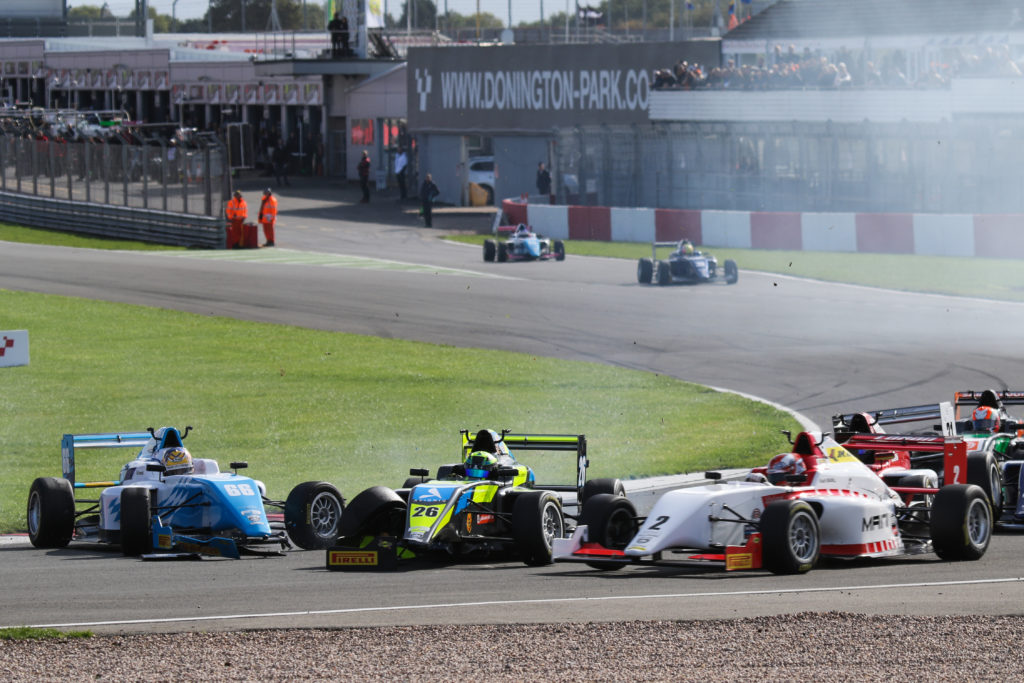 At the second start, Lundqvist's fate was very much sealed at the first corner, where he was left with nowhere to go as Douglas Motorsport's Arvin Esmaeili spun in front, putting the duo out on the spot in the Redgate gravel trap along with Kush Maini.
 
With lap times in races one and two setting the grid for Race 3 – and with the first race of the weekend having been wet – a knock-on effect of the early Race 2 retirement meant Lundqvist was doomed to the back of the grid for the final race of the weekend, where he eventually recovered to 11th.
 
Meanwhile, Kjaergaard won both the first and final race of the meeting, setting up a dramatic title climax at next month's Silverstone finale. 
 
"The worst possible weekend basically, but it is what it is and of course I'm disappointed," says Linus Lundqvist. "We were on the back foot from the get-go this weekend after the initial engine issues, and then that sort of triggered a vicious circle of events. We've had an absolutely fantastic season until now, so I guess this is motor racing and things like these happen. I will sit down with the team and look into every detail of what happened, and I know we are all determined to fight back at the finale and return to where we belong. There is just one goal at Silverstone and we're in it to win it."
 
Despite this weekend's setbacks, Linus Lundqvist is now guaranteed second place in the 2018 BRDC British F3 Championship at the very worst, with the title race now formally a two-way scrap between the Swede and his Scandinavian antagonist Kjaergaard (Denmark). 
 
The decisive final round of the season takes place at the Silverstone Grand Prix circuit on October 12-14.
RESULTS (top five)
BRDC British F3 Championship
Round 7 | Donington Park
Race 1
1: Nicolai Kjaergaard, Carlin, 12 laps
2: Jamie Caroline, Carlin, +0.752s
3: Krish Mahadik, Double R, +11.471s
4: Billy Monger, Carlin, +13.742s
5: Kush Maini, Lanan, +15.354s 
—
8: Linus Lundqvist, Double R, +17.560s
Click here to view full results
Race 2 (reversed grid)
1: Sun Yue Yang, Carlin, 8 laps
2: Pavan Ravishankar, Double R, +3.743s
3: Hampus Ericsson, Fortec, +4.135s
4: Sasa Chaimongkol, Hillspeed, +5.308s
5: Krish Mahadik, Double R, +5.477s
—
DNF: Linus Lundqvist, Double R, 0 laps 
Click here to view full results
Race 3
1: Nicolai Kjaergaard, Carlin, 11 laps
2: Krish Mahadik, Double R, +2.067s
3: Billy Monger, Carlin, +3.313s
4: Jamie Chadwick, Douglas, +4.104s
5: Hampus Ericsson, Fortec, +4.939s
—
11: Linus Lundqvist, Double R, +11.656s 
Click here to view full results
CHAMPIONSHIP STANDINGS (top five)
BRDC British F3 Championship
After 21/24 races
1: Linus Lundqvist, 496 p.
2: Nicolai Kjaergaard, 446 p.
3: Kush Maini, 346 p.
4: Krish Mahadik, 336 p.
5: Tom Gamble, 316 p.
Click here to view full standings